Altak Inc. offers a wide range of engineered solutions including CAD based application design, improvement reengineering for, but not limited to, electrical connection optimization, labor reduction, cost reduction and quality improvements. We also offer total cost sourcing where we will analyze the best combination of low cost components, quality product and quick lead times to our customers.
Injection / Insert Molding
Altak's injection / insert molding services help round out our supply base. If an assembly requires a custom molded or insert molded part, we can provide cost effective sourcing solutions and custom made design. We are dedicated to providing a total solution to your electronic sub component needs.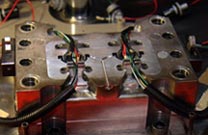 LED/PC Board
Altak has sources in low cost countries to serve your LED/PC Board requirements. This combined with our electrical assembly experience and access to automation, we strive to provide the best possible solution.